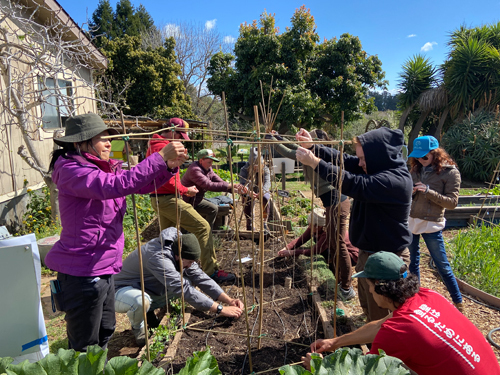 Engineering in the Garden
How can we design a stable trellis to support our climbing pea plants? How can we attract bees to our garden? How can we keep our plants warm in the cold winter months? These are important questions for farmers or gardeners trying to cultivate food. Students in 3rd-5th grade are now addressing these questions too.
Elementary educators are encouraged to facilitate students in engineering design to meet the expectations of the Next Generation Science Standards (NGSS). BSCS Science Learning, in collaboration with Life Lab, developed the Engineering in the Garden program to help 3rd-5th grade teachers and garden educators engage students in designing solutions to address real-world problems that arise in schoolyards and school gardens.
The program is designed to enhance educators' understanding of the engineering design process and their confidence to facilitate engineering in the garden. Engineering in the Garden centers around the "Designing Trellises" unit, a model garden-based engineering unit in which students design trellises to support pea plants. Students consider how to design and build trellises that will stay stable and support peas as they climb. Students research peas' needs, develop prototypes, design and build full-size trellises in the schoolyard, test those trellises in a range of likely environmental conditions, revise their designs, and plant and grow peas. The unit demonstrates how to use gardens as an authentic context for integrating science with engineering.
The program also offers resources to help educators design and facilitate their own garden-based engineering units, including an engineering process framework, guiding principles for garden-based engineering, planning tools, and videos of educators in action.
Life Lab offers the 2-day Engineering in the Garden workshop annually at their educational garden classroom in Santa Cruz, California. All the program resources are also freely available.
---
This work is supported by the Agriculture and Food Research Initiative's Professional Development for Agricultural Literacy Program [(award no. 2020-67037-31047/project accession no. 1021998)] from the USDA National Institute of Food and Agriculture. Any opinions, findings, conclusions, or recommendations expressed in this publication are those of the author(s) and should not be construed to represent any official USDA or U.S. Government determination or policy.
---