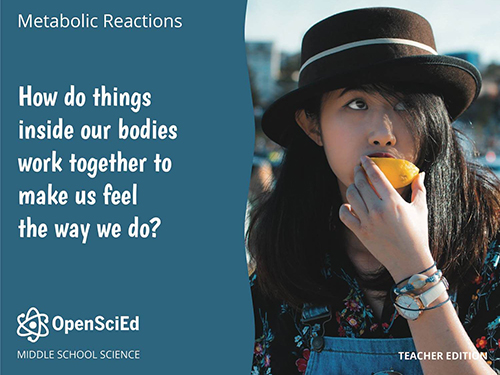 Metabolic Reactions
This 7th grade unit on metabolic reactions in the human body engages students in an investigation of a real case study of M'Kenna, a 13-year-old girl, who reported some alarming medical symptoms to her doctor. Her case sparks questions and ideas for investigations to figure out which parts of M'Kenna's body are functioning differently from a healthy person's system and why. Through the work of investigating M'Kenna's symptoms, the class constructs a model to explain what happens to food after it enters people's bodies, and they use it to explain M'Kenna's symptoms.
In this unit, students build an understanding of how body systems interact to process food and use the energy stored within it. They work on the practices of developing models, interpreting data, and arguing from evidence.
Metabolic Reactions is aligned to the Next Generation Science Standards and is now freely available for download. This unit is part of the OpenSciEd middle school science program, currently being developed and rolled out in phases through winter 2022. BSCS Science Learning leads a consortium of organizations and science education experts in the development of this three-year program for grades 6-8.
---